When it comes to blending, the less air the better. Let us explain…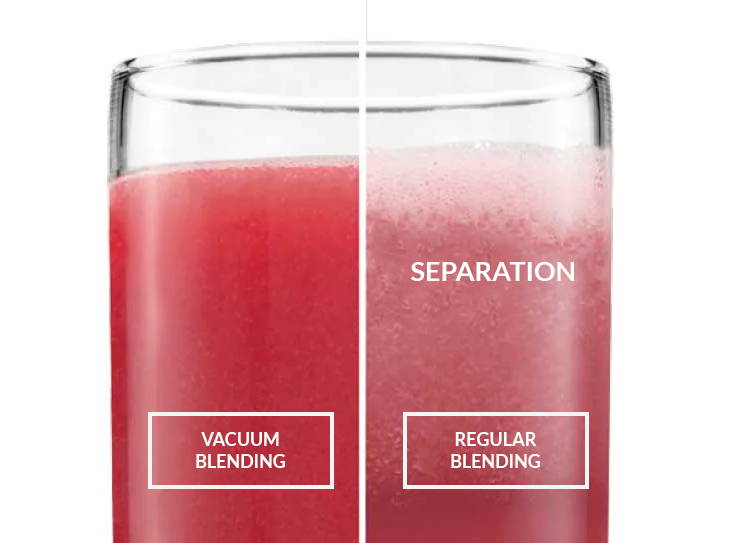 Ever make a smoothie and after ten minutes you find that it's become separated? Vacuum blending condenses all of the ingredients so that they hold true – even days later with proper storage and refrigeration!
Blending with our vacuum system virtually eliminates foam – especially when blending protein shakes. By making it a completely air-free zone, those bubbles don't stand a chance!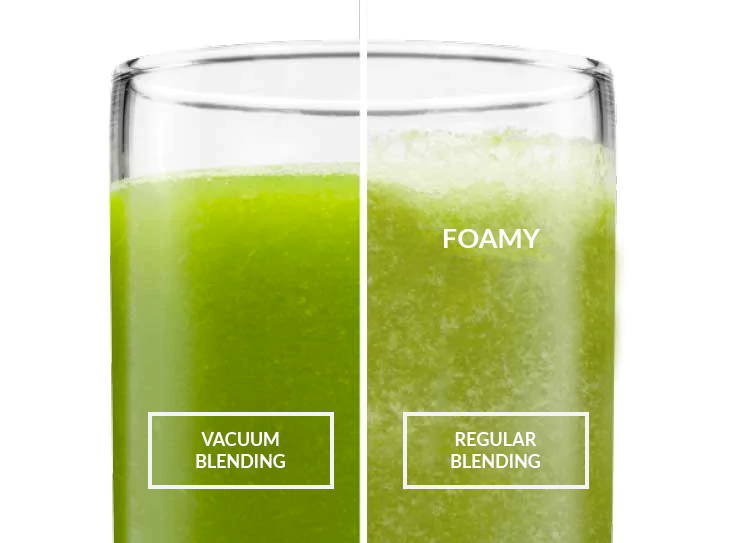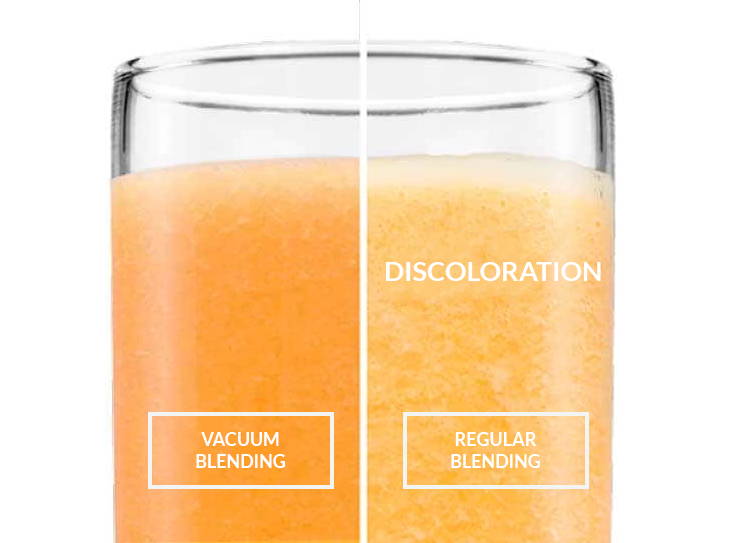 Perhaps the most noticeable difference you'll see when using our vacuum system is the color of your Smoothie. With the air removed, Smoothies come out vibrant instead of faded, letting you catch a glimpse of all those nutrients compacted into a tight space.
WHY VACUUM BLENDING?
Vacuum technology removes oxygen from the jar throughout blending to create a smoother, more colourful blend, virtually free of bubbles, froth, & foam, and with less separation for better consistency. Vacuum blending also slows down separation, discolouration, and the effects of oxidation on nutrients.
INCLUDES:
-Blendtec Vacuum System
-Blendtec WildSide Vacuum Jar & Lid
-Nut Milk/Juicing Bag
-Reusable Metal Straw & Cleaner
-Reusable Vacuum Seal Bags, and Spoonula Spatula.
Vacuum blending and storage removes oxygen from the blend to avoid separation and air bubbles/froth, helping reduce discolouration and the effect of oxidation on nutrients, while maintaining flavour & texture when stored and refrigerated properly. Enjoy on-the-go blends that stay fresh for longer.

Use the vacuum seal bags to store fruits, veggies, meat, & more while slowing the gross brown discolouration and the loss of nutrients due to oxidation. Traditional storage containers and bags do not protect food from oxidation. Keep your food fresher for longer.
BLENDTEC VACUUM PUMP: The Blendtec Vacuum System is compatible with any Blendtec Motor Base. Comes with a unique Blendtec Vacuum WildSide+ Jar & Lid. The Blendtec Vacuum lid & dome attach to the Vacuum System to effectively remove oxygen in order to preserve color, avoid separation, achieve a smoother texture, and slow the effects of oxidation on nutrients. Also includes re-usable straw and cleaner to maximise enjoyment of blends without the plastic waste of disposable straws.
RESEALABLE VACUUM SEAL BAGS INCLUDED: Blendtec Vacuum System includes resealable bags. Bags are compatible with the Vacuum System to allow storage of fruits, veggies, meat, etc. while minimising oxidation and loss of color. Keep your food fresh for days with proper storage and refrigeration! Also includes juicing bag/nut milk bag to maximise juice/milk yield and minimise waste.
*NOT FOR COMMERCIAL USE – If used commercially, the warranty will be voided.