Ex-Display unit with full 8 year warranty.
Condition:
Motorbase may show slight cosmetic markings.- Jar may show slight cosmetic markings.
Jar will never have been in contact with food.
The retail packaging may be damaged from storage & shipping. The unit may come in a brown box rather than coloured retail box.
These are ex-display models which we have used for trade shows, our show rooms, photo shootings etc.  We replace these frequently, so if your desired colour is not available, let us know and we'll see when we'll likely have it back in stock again. The units are typically unused/brand new. Each unit gets a clean anyway before shipping.  As such the jars may show slight water marks. Neither the motor base nor the jars will have ever come in contact with food.
The units come with the full 8 year warranty.
---
It's the blender that does everything—including complement your kitchen décor. The Designer 625 features next generation blending and control technology along with a stunning palette of seven colors to choose from.
High Tech with Fashion Sense
The Designer 625 is engineered not only to perform—but also to fit in with your fashion sense.
Features include:
3.0 peak horsepower motor – 1580 Watt
Illuminated, capacitive touch interface
4 Pre-programmed cycles: Smoothie, Ice Cream, Whole Juice, Hot Soup
6-speed capacitive touch slider + Pulse
Illuminated display indicates remaining blend time
Moulded finish
Colours: Black, Red, Chartreuse, Sea Foam, Orchid, Slate Gray, Polar White
Dimensions: 18 x 24 x 38 cm (7″ wide x 9.25″ deep x 15.5″ tall)
Weight: 4.2 kg (9.25 lbs)
230 volts
Power cord: UK Plug
8-Year Warranty
Package Includes:
Designer 625 motor base
BPA-free jar with vented Gripper™ lid
Blending 101 quick-start guide and recipes
Illuminated Touch Controls
An intuitive touch screen with easy to see icons makes the Designer 625 more versatile and simple to use. It lights up with a single touch, shuts off automatically, and is completely flat so cleaning is as simple as a quick wipe.
Six-Speed Touch Slider + Pulse
Simply slide your finger left or right to control the motor speed for customised blending. Use Pulse for an added burst of power at any speed.
Pre-programmed Blend Cycles
No more guesswork! Four pre-programmed custom cycles enable one-touch blending perfection: Smoothie, Ice Cream, Whole Juice, and Hot Soup.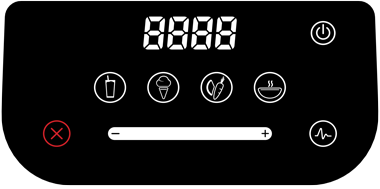 Click here for more information on the cycles
SMOOTHIE
This cycle is designed specifically for various types of smoothies and thick drinks that frequently use dense or frozen ingredients. It slows down and speeds up automatically during the course of the cycle. This allows the blender to draw the ingredients into the blending vortex, creating the desired texture. To use the Smoothie cycle, load your jar as indicated in the recipe you are using, secure the lid, and press the Smoothie icon. The blender will run the cycle and automatically shut off.
FROZEN TREATS / ICE CREAM
This cycle is designed specifically for frozen treats, including ice cream, sorbets, and frozen yogurt. The cycle speeds up and slows down at the appropriate moments to ensure your blends stay frozen. To use the Frozen Treats cycle, load your jar as indicated in the recipe you are using, secure the lid, and press the Frozen Treats icon. The blender will run the cycle and automatically shut off. After creating your frozen dessert, serve immediately and store leftovers in the freezer.
WHOLE JUICE
This cycle is designed to completely blend tough and dense ingredients, including carrots, celery, and seeds. Use the Whole Juice cycle if you are using any fruits and/ or vegetables with stems, seeds, or skins. When blending carrot juice or other dense juices, you may need to repeat this cycle once or twice until the desired texture and consistency are achieved.
HOT SOUP
This cycle is designed for hot recipes. The cycle's length of time, combined with the speed of the motor, heats the ingredients to a hot temperature. This cycle can also be used for hot chocolate, syrups, and fondue. When using fresh ingredients, remember that the speed of the blade generates enough heat to warm the ingredients. Do not add any liquids or ingredients over 46º C (115° F) to the jar when preparing soups or hot items.
PULSE
The Pulse function is used for chopping, mincing, whipping, or other momentary tasks that do not require a long blend cycle. You can also Pulse to quickly stir a blend before serving. The Pulse setting runs at speed 7 and will only run while the Pulse icon remains pressed. When the icon is released, the motor shuts off.
CAPACITIVE TOUCH SLIDER
The capacitive touch slider allows you to fine-tune the speed of your blender. Simply slide your finger to the right to increase the blender's speed or the left to decrease speed.