Blendtec Stealth 895 Nitro incl. 2 Micronisers
FEATURES INCLUDE
Compatible with all Blendtec jars when wanting to blend larger quantities at once.
Blend directly in the customer's takeaway cup eliminating nearly all waste.

You can potentially save tens of thousands of £££ in ingredients by blending directly in the customer's takeaway cup vs blending in a jar.  Check out business case calculator to calculate the potential savings it can provide in your store.
The Stealth 895 Nitro as standard comes with a total of 4 adapters to make it compatible with the following cups: Solo Cup TP12S (12oz/340ml), Solo Cup TP16D (16oz/450ml),

 

Solo Cup TD24LP (24 oz/680ml) and Solo Cup TCM32 (32oz/900ml)

.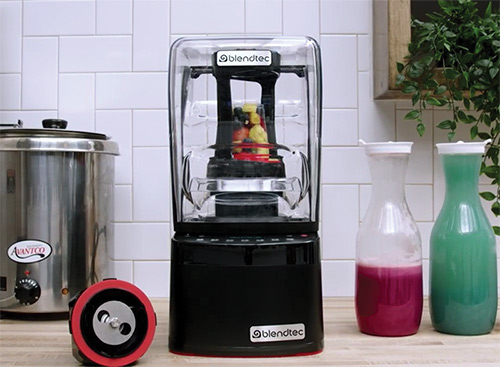 New 2023 Version allows full customisability.

The Stealth 895 Nitro can be made compatible with 99% of single-use cups on the market and a wide array of reusable cups as well thanks to 3D printing of custom cup adapters.  An adapter is printed specifically to each cup design so that it allows the side walls of your takeaway cups to withstand the intense forces that occur during blending.  As long as the cup is made of either single-use plastic, paper, glass, metal or ceramic and the the internal diameter of the cup opening is. between 8.5 and 10.5 cm, then we should be able to make you an adapter.  If in doubt, feel free to send us a photo. If we can't make it and you've already placed your order, you are of course eligible to cancel the purchase for a full refund.
If you want us to make the Stealth 895 Nitro compatible with your own cups, here is the process to follow:

1. Place your order.
2. Send us 5-10 pcs of the cup you will be using. If you will be using multiple different sizes, there will be a surcharge of £250/cup design.
Our engineering team will create a 3D virtual model of the adapter that fits your cup perfectly, and with it will 3D print two custom adapters for your daily use. This is already included in the price you paid.  If purchased elsewhere, the price is £250 per cup design (incl. 2x 3D printed adapters).
If two adapters aren't enough or you've lost an adapter, additional 3D printed adapters are £49 each and are available in a selection of colours.

Motor: 3.8 peak horsepower, 1800 watts
Can handle 400+ daily blends
Make ice cold smoothies & milkshakes; the Nitro cup adapters provide the necessary strength to the walls of your takeaway cups so even frozen ingredients can be blended.
Tactile Interface
Sound Enclosure: Fully enclosed, easy-to-clean blending station
Advanced sound enclosure helps blender operate at the sound level or normal conversation.
Program Cycles: 42 Preprogrammed blend cycles, including 2 for the NBS attachment
Create you own custom blend cycle online free of charge and load it onto the Stealth via USB.
1 year labour warranty, 3 years parts warranty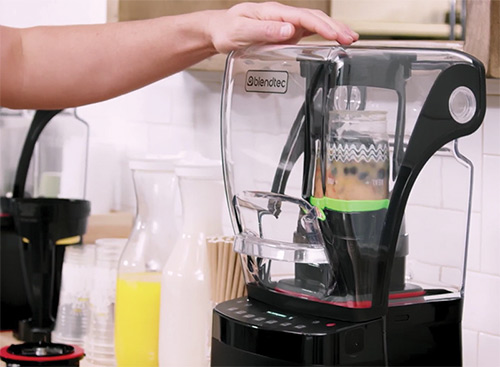 JARLESS BLENDING, THE FOREFRONT OF INNOVATION
Why waste ingredients when you can have perfectly proportioned drinks and smoothies blended right in the cup you give your customer? The Nitro Blending System minimises waste, saves time, and increases your profit margin.
All our normal Blendtec Jars are compatible with the Stealth 895 for when you want to make drink in larger batches.
ONE-TOUCH BLEND CYCLES
Blending has never been simpler. Just push a cycle button, and Stealth 895 Nitro does the rest, automatically speeding up, slowing down, and shutting off the motor. The result? Perfect blends, every time.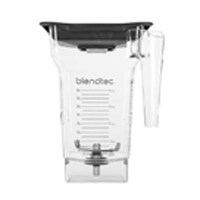 FULLY COMPATIBLE WITH
ALL BLENDTEC JARS
USE NBS SYSTEM OR JARS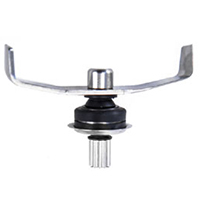 BLUNT SAFETY BLADE
10X STRONGER
THAN TRADITIONAL BLADES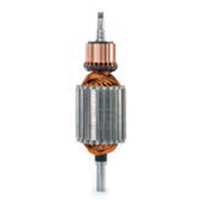 ULTRA HIGH-SPEED MOTOR
3.8 PEAK HP
BLENDS THE TOUGHEST INGREDIENTS
Videos
Here's are some more great demonstration videos from our partners:
3.8 peak horsepower, 1800 W, 8.5 A, 240 V
Illuminated OLED display with tactile keypad
Reduces noise for quieter blending
42 Preprogrammed blend cycles, Including 2 for the NBS attachment, create custom or update included blend cycles via Blendtec's Blend Wizard™ online tool
Recommended daily blends: 200+
H: 43,9 cm
W: 21,8 cm
D: 22,9 cm
3 years parts & 1 year labour on the motor base.
1 year warranty on the sound enclosure and NBS system.
Dedicated in-counter version available upon request.