Blendtec are proud to offer industry leading after-sales service. To ensure the high level of care available, Blendtec is the only commercial blender brand in the UK with multiple repair facilities around the UK to maximise local coverage as well as speed of repairs.
If you are still within warranty or wish to use the UK's Blendtec Commercial Importer Beyond The Bean (Bristol, FedEx) to handle your out of warranty repairs, then please do not purchase this service here and instead fill out Beyond The Bean's commercial repair form.  The repair service on offer here is only for out of warranty repairs which will be handled by LUBA Distribution Ltd (Nottingham, Parcelforce/UPS), an independent repair service centre in the Midlands that specialises in Blendtec repairs.
Thank you for helping us reduce electronic waste and wanting to breath new life into your out-of-warranty Blendtec blender.  If you are looking for the optional 'technical service' (recommended every 40,000 cycles for smoothie bars and every 20,000 for milkshake bars), please click here: Technical Service.
Please ensure you had a chat with our customer service team before placing an order for a repair as a free-of-charge phone call might be able to resolve the issue remotely, thus not requiring a repair at all.  We pride ourselves with having a 5/5 star rating across every independent review website.  We aim to exceed expectation and will always try to get the units back to you as fast and as economical as possible as possible.  Over 85% of our Blendtec sales come through 'word of mouth', thanks in part to the speed and quality of the service we provide.
Please provide extra details when placing your order
Sometimes a repair isn't necessary and having a detailed error description can help our engineers review a case before a unit is sent off to us and possibly offer a free fix over the phone instead.
You can find the serial number on the underside of the blender.  If you have an ICB Blender (Space Saver, Connoisseur, Q-Series), then you will need to remove the motor base from the black housing to get to the serial number.  If you can't find it, that's ok.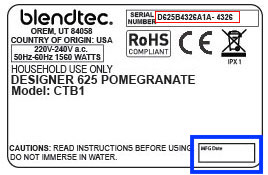 What Repair Level do I need?
You can select between "Fault Detection Service", "Level 1, 2, 3 and Level 4 Repair".  Prices include VAT & shipping both ways.
Level 0 Repair is for units that are still within the parts warranty period and covers the labour charges, shipping both ways and portable appliance testing.
Level 1 Repair covers a variety of small parts such as replacing the power cable, touch pad, switch etc.
Level 2 Repair covers the majority of repairs we do.
Level 3 Repair covers the replacement of major components such as the complete motor or the circuit board.
Level 4 Repair is our 825 motor-base replacement service. You can get a discounted new motor base if your unit is not economical to repair.  We hope to offer a similar scheme for the Stealth series shortly.
Don't worry if you select and pay for the wrong repair level. You will only be invoiced for the level of repair that was actually required and any over-payment will be refunded.  If the repair level exceeds what has been pre-paid, we will require payment of the difference before we can complete the repair.
Most error messages, such as overtemp* or Overload, can be fixed under a level 2 repair if caught early. Error messages such as 'Motor-Control Error' would typically be a level 3 repair.  You wouldn't drive a car for too long if the check-engine light is on, so please make sure you get your blender into our service centre if you see the same error repeatedly.  Just because it keeps working with error messages does not mean the blender is not taking damage.
*Please note that error over-temp could also be down to a defective jar, so please check your jars first before purchasing a repair service.  You can order new jars here.
All prices include shipping both ways and VAT.  All new components we instal come with a 1 year warranty.
If a repair is deemed not economical by yourself, we can return the un-repaired unit for £100+VAT to cover shipping and labour which would be deducted from your refund.  Alternatively, you can get a full refund of the pre-paid repair amount if you wish us to recycle* your defective unit.
*Recycling: We aim to salvage as many working parts as we can to reduce electric waste.  These parts also allow us to refurbish blenders that we provide to charitable projects across the country free of charge such as food banks, so hopefully this makes parting with an unrepairable unit a bit easier.
How do I ship the unit to you?
Please package up the unit(s) safely so they can withstand any drops during shipping.  It is very rare that couriers pay out for damage occurred during transit as parcels need to be able to withstand drops of 1.5m.  We will always use the same packaging we received to return your blender – it is your responsibility to ensure the packaging is adequate.  We have 3 options to choose from for shipping your unit to us:
Parcelforce Drop-Off: Select 'free shipping' at checkout and we'll provide you with a pre-paid next-day-delivery shipping label via e-mail.  You can drop off the parcel at any Royal Mail Post Office or Parcelforce Depot. Please keep hold of your drop-off receipt as this is proof of postage.  You can track the parcel on the Parcelforce website and it insured with £100 against loss. Losses above that amount are at your own risk.
Parcelforce Collection: Select 'Parcelforce' at checkout and we'll provide you with a pre-paid next-day-delivery shipping label via e-mail.  Please state in the checkout comments a day for collection (you need to be available between 08:00-18:00, no time-slots are available).  Please ensure the courier scans the shipping barcode upon collection as proof of postage.  You can track the parcel on the Parcelforce website and it insured with £100 against loss.  Losses above that amount are at your own risk.
Own courier: You can use your own courier at your own expense.  Please select 'free shipping' for this option and state in the comments that you will use your own courier.  This allows you to arrange your own collections as well as insure the shipment to a higher value.
How long does the repair take?
On average, all units get repaired within 24 hours, so if it arrives on a Wednesday, we usually despatch it back to you on the Thursday with next day delivery service.  A repair with us usually only takes 1 day compared to the 26 days of our closest competitor.  If the repair would exceed the pre-paid amount, then repairs can take 2-3 days depending on how long you take to settle the outstanding balance and the unit goes back into the repair queue.  All repaired units will undergo a free portable appliance test (PAT) before being returned to you.
While jars are non-repairable, you may add jars to the shipment as well and we'll review these free of charge if you are unsure if they are still operating as intended.
VAT Invoice 
We'll send you an VAT invoice via e-mail as well as the tracking number once the repair is complete.  Should you have overpaid, we'll refund the difference and it should be back in your account within 72 hours depending on payment method selected.  If you paid via bank transfer, we'll need your account details to initiate a refund.
Notice for Blenders manufactured before 2018:
In 2017 Blendtec achieved a new milestone in quality assurance & performance when it opened its new in-house motor production line.  As part of this major upgrade, Blendtec used the opportunity to make fundamental improvements to the motor, electronics board and internal construction of the housings.  While spare parts were set aside for potential future repairs, Blendtec blenders can be found in over 150 countries which made it near impossible to forecast the number of parts needed in each country.  As such, model dependent, we may have run out of some major components.  A repair would therefore require the replacement of multiple major components as the electronics board, motor and parts of the housing would need to be replaced for compatibility reasons.